---
We are a congregation of frequencies.
Helping people and pets, worldwide, since 1999 self-heal 24/7 to achieve remarkable levels of balance and well-being. At EMC² we strive to make your life better.
Discover the Power of YOU! Healing non-stop on AIM*
---
May Founder Call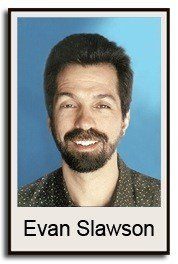 ---
---
Take a virtual AIM Program Tray Tour with EMC² Founder Roberta Hladek. This short video will give you an inside look at the Quantum Consciousness Imprinting Device (QID) developed by EMC².
Current Resources & Events
The Book That Started It All
---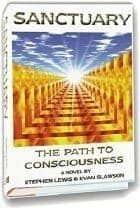 Read about the decades of work that preceded the evolution of AIM and about the ability and urgency for all of us to self-heal in our book, Sanctuary: The Path to Consciousness. A few chapters from the book are available online here, and you can now purchase the book in our online store with PayPal.

Topics on How to Live Better
---
---
Visits from AIM Participants
Verdine White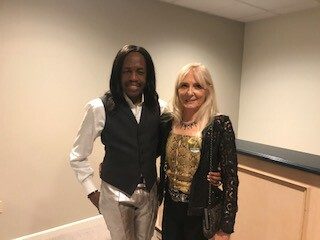 Another awesome night seeing my great friend and AIM paticipant/bass player supreme Verdine White with his amazing band Earth Wind And Fire!
---
Rakim
---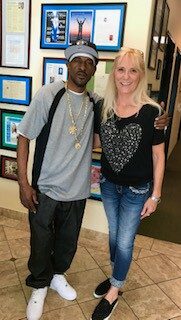 Great friend and AIM Program supporter musician Rakim
stopped in to say hello while performing in Las Vegas.
What a sweet man. Made our day!
---
Featured AIM Participant
Meet Winnie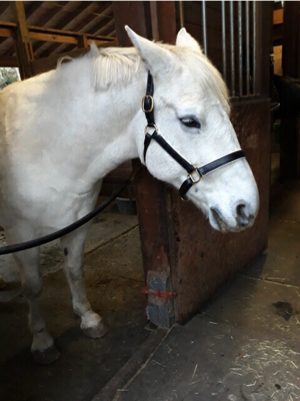 "Winnie" is a beautiful Irish drought horse who, when my wife Brenda and I met her, was suffering from the largest melanoma we have ever seen. It was located at the base of her tail and her genital-rectum area. She was also covered with hives due to an allergy to scotch broom. In a word, she was a mess. Her prognosis was grim.
We worked on her nutrition and used our energy-healing techniques on her which brought some relief, but her melanoma was still not reduced enough to ensure her survival for very long. We knew there was more underlying this mare's condition than just the physical manifestation. We hoped removing those spiritual and emotional blocks would give her physical body the chance it needed to heal.
We convinced Winnie's owners to put her on The AIM Program and we raised money for laser surgery with the one doctor in the Northwest that would even attempt it. To make a long-story short, Winnie has made a miraculous recovery. Her surgeon has marveled at the speed in which she recovered from a cancer that was even more involved than he first thought.
He was not optimistic, though we weren't surprised. Winnie had a brutal past before being rescued by caring owners. We feel that the emotional and spiritual help she received from The AIM Program gave her the energetic support to heal. Believe it or not, we saw the change in her eyes even before the surgery so we were confident that she would have the best chance of survival possible.
Today, Winnie is a loving, energy-filled horse. Her owners cannot believe how she has changed and are grateful for her healing. And, oh, yes, she walks past this year's bumper crop of Scotch Broom with hardly a hive resulting on her body…and certainly none that last long. Thank you AIM Program! You were the only additional element in her life that we know of and you made all the difference in the world.
Rob Spears 5/1/2020
---
Blankets For Charity
EMC2 Central Ladies dedicate their skills and time to make 120 blankets for Catholic Charities in Las Vegas and The Barbara Sinatra Foundation for Abused Children in Palm Desert, Ca. Helping to make a better world for those in need.

We are Vegas Strong!
AIM Essentials
---
Sign Up Here to Receive our Weekly Newsletter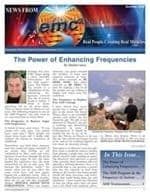 News about newly-revealed balancing-energies,
featured stories about experiences on AIM,
announcements for upcoming talks and more.
Click here to read our newsletter!
Fill out the information below to receive our weekly newsletter!

---
*EMC² Disclosure: AIM Energetic Balancing is not medicine or healthcare and it does not diagnose, treat, prevent or cure disease. EMC²'s holographic, spiritual technology helps you heal energetic imbalances in consciousness, where everything is created and where all true healing occurs. Only you can heal you – AIM assists you in doing so, 24/7. Imbalances in consciousness are what EMC² believes to be the predispositions, precursors or potentials for eventual negative manifestation, unless healed by you. Once healed from your consciousness, imbalances are gone for good and can neither manifest nor be passed on to offspring. Hence the phrase "Become the first in the history of your family with no family history, (except the good stuff)". Just as every individual is unique, every AIM participant's healing experience is unique to them.